неделя, юли 31
Marines Refuse to Obey Orders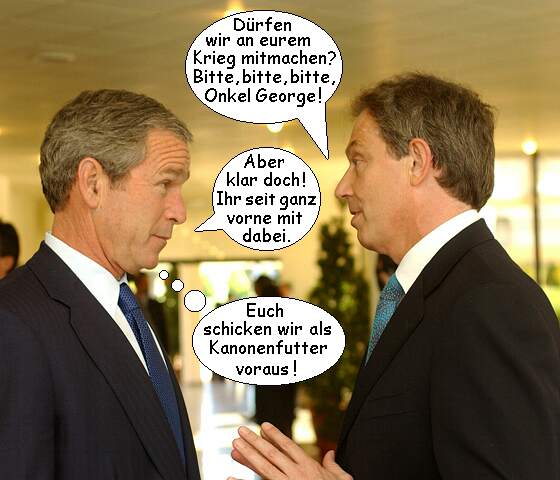 What on earth are these two talking about?
Somebody says we should get round a table.
Undersea world holds urgent talks over the expected American invasion of Watford. Aquatic creatures were given the ultimatum "
Are you with us, or against us?
" by George Bush earlier today. Marine world decides to declare strict neutrality. US reluctantly agrees to allow neutral observers to remain in the River Colne and Watford pond. All other parts of the borough to be "zoned" and administered by the
Coalition of the Willing
(US and UK).
American Zones are:
Krispy Kreme Do-nuts
McDonalds
Game Store
Asda-Walmart
Just about everywhere else apart from...
United Kingdom Zone:
Tescos
---
Commander in Chief of the Supreme Allied Forces (SW Herts branch) President George Bush declares:
If Watford does not surrender within two days, we will use sock and oar tactics to enter the city... er borough... little town.
---
Red Lobster, on behalf of all aquatic creatures says:


We're not afraid!